Stainless Carved CROSS Carbon Fiber Rose Gold Plated RING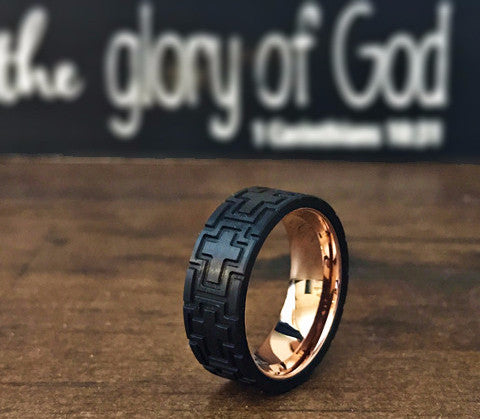 INCREDIBLE PROMOTION!
Stainless Steel Carved CROSS RING 
with Carbon Fiber Rose Gold Plated  
US Size 9 to 12 available.


Promise Ring
Inexpensive Wedding Band
Purity Ring 
Retails for $59.99 on SALE today for $29.95 !
Please Note: We donate a portion of our proceeds to Christian Charities.  We believe in taking action to being the hands and feet of Jesus.  We want to thank you ahead of time for your purchase and also for giving.
Handsome hand crafted design.  Great for special events.
Please allow 3-4 weeks for delivery
| United States & Canada | UK, Europe & Australia | CN/SG/JP | HK | Switzerland | Circumference(mm) |
| --- | --- | --- | --- | --- | --- |
| 4 | H | 7 | 9 | | 46 |
| 5 | 0.5J | 9 | 11 | | 48 |
| 6 | 0.5L | 11 | 13 | 12.75 | 52 |
| 7 | 0.5N | 14 | 16 | 15.25 | 55 |
| 8 | 0.5P | 16 | | 17.75 | 57 |
| 9 | 0.5R | 18 | 20.5 | | 59 |
| 10 | 0.5T | 20 | 23 | | 62 |
| 11 | 0.5V | 23 | 25 | | 65 |
| 12 | 0.4X | 25 | 27.75 | 27.5 | 68 |
---
More from this collection