Promote LOVE Necklace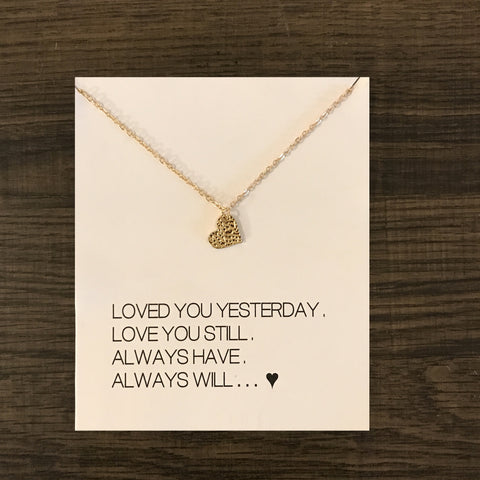 We wanted to provide a special something in our store that promotes healthy Christian marriages.
1 Corinthians 7:2
We also wanted to do so in a way that doesn't break the hubby's bank, and he can afford to do something special for you!  
Comes with a card he doesn't even have to fill out.
Loved you yesterday,
Love you still,
Always have,
Always will...
Classy heart design
Zinc Alloy 40cm
A great way to dress up any outfit
Retails for $29.99 on 

SALE today for $14.95 
Beautiful hand crafted design.  Great with any wardrobe.
Please allow 3-4 weeks for delivery
Get yours TODAY click add to cart 
Please Note:  A portion of net proceeds are donated to Christian Charities.  We believe in taking action to being the hands and feet of Jesus.  We want to thank you ahead of time for your purchase and also for giving.
---
More from this collection